PERFORMANCE AND SPECIFICATIONS - STOL CH750 S-LSA

SPECIFICATIONS
STOL CH 750
WING SPAN

29 FT. 9 In.

HEIGHT (rudder tip)
8 Ft. 8 In.
WING AREA

144 SQ.FT.

WING CHORD
4 Ft. 10 In.
LENGTH
21 Ft. 10 In.
HORIZONTAL TAIL SPAN
8 Ft. 5 In.
HORIZONTAL TAIL AREA
22.2 Sq. Ft.
EMPTY WEIGHT

820 LBS.

GROSS WEIGHT
1,320 LBS.
USEFUL LOAD

500 LBS.

WING LOADING
9.15 LBS/FT²
POWER LOADING
13.2 LBS/BHP
DESIGN LOAD FACTOR (ultimate)
+6 G / -3G
CABIN WIDTH (shoulders)
42 INCHES
CABIN WIDTH (optional bubble doors)

50 INCHES

FUEL CAPACITY (std., dual wing tanks)
30 US Gallons
(2 x 15 gal.)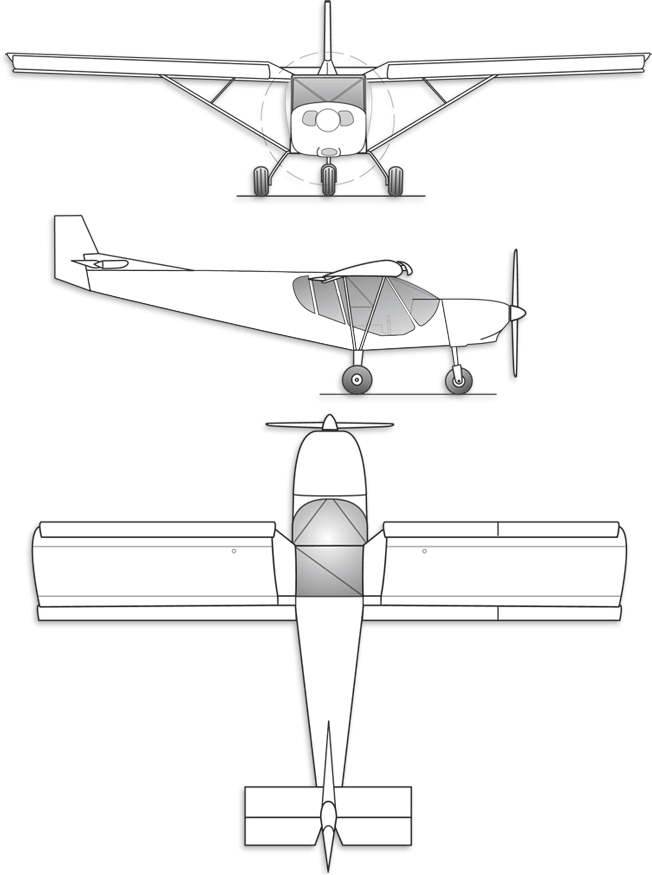 STOL CH 750 PERFORMANCE
Continental O-200 - 100 hp
@ gross weight
TAKE-OFF ROLL
100 Feet
30 m.
LANDING ROLL
125 Feet
38 m.

MAX. CRUISE, Sea Level

100 MPH
162 km/h

V

NE

125 MPH
200 km/h
STALL, flaps down
35 MPH
56 km/h
RATE OF CLIMB
1,000 fpm
5.1 m/s
SERVICE CEILING
14,000+ feet
4,200+ m.
STD. RANGE
400 miles
710 km.
ENDURANCE
5 Hours
5 Hours
STOL CH 750
True short take-off and landing
capability for the serious sport pilot.

Specification and performance figures quoted with the Continental O-200-A engine (100 HP). Standard atmosphere, sea level, no wind.
Performance and specification figures based on prototype flight test results. All technical data, specification and performance figures subject to change without notice.