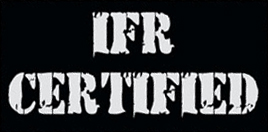 NIGHT - IFR in an SLSA?
EAA NEWS - 10/13/05 - SPECIAL LSA AND NIGHT/IFR FLYING
Some confusion exists in the aviation marketplace regarding the use of special light-sport aircraft (S-LSA) for flying at night and/or under instrument flight rules (IFR). The ASTM consensus standards that govern the manufacture and production of S-LSA specifically address day/visual flight rules (VFR) operations only.

First, sport pilots, or those exercising sport pilot privileges, are restricted from flying at night or in IFR conditions, so they may not operate an S-LSA, or any aircraft, at those times.

Other properly rated pilots may fly an S-LSA in those conditions if allowed per the aircraft's operating limitations and if it is equipped per FAR 91.205. Additionally, FAR 91.327(d) requires all S-LSA to be operated in accordance with the aircraft's operating instructions. An aircraft's operating instructions are different from operating limitations; operating instructions are issued by manufacturers-engine, airframe, and accessory-while operating limitations are issued by the FAA.
When ordering an IFR aircraft, the airframe is updated for IFR operations. This includes grounding straps for lightning protection, Heated pitot-static tube, IFR pilot side window (small window that opens), TSO gauges and a lot more. These items are similar to the Zenair FAA certified CH2000 that is FAA certified for IFR operations.

Many S-LSA are equipped with Rotax engines. Rotax's operating instructions prohibit the use of a Rotax engine at night or in IFR conditions unless it is the FAA type-certificated engine; that is, certificated to FAR Part 33. Rotax's non-certificated engines are indicated by the letters "UL" after the engine series number; for example, 912UL, 912ULS, and 914UL.
The classic Continental 0-200 is FAA certified under Part 33 and therefore can be used for IFR flying. The light weight 0-200 is LSA complient but not Part 33 certified.

Additionally, S-LSA airframe and engine manufacturers may place restrictions against the use of their aircraft and/or engines for night/IFR operations. For example, other S-LSA are powered by Jabiru engines; these engines are certificated to JAR-22H and are limited to day/VFR operation.

Bottom line: some S-LSA can be equipped for night and IFR operation; be sure to tell the manufacturer/dealer if your intent is to operate the aircraft under those conditions...and make sure you have the proper ratings.
See the AOPA Q&A on SLSA IFR flying.

For more information, call EAA's Aviation Service at 888/EAA-INFO (322-4636) or e-mail info@eaa.org.


FAA's Sport Pilot / Light Sport Aircraft (LSA)
AOPA Frequently Asked Questions About Sport Pilot - VFR-NIGHT-IFR
http://www.aopa.org/advocacy/advocacy-briefs/frequently-asked-questions-about-sport-pilot.aspx

SPORT PILOT / LIGHT-SPORT AIRCRAFT RULE

QUICK ANSWERS TO COMMON QUESTIONS
The following from EAA is a collection of brief answers to some of the more common Sport Pilot questions:

Gross weight = 1,320 pounds (600 kilograms)

Max Continuous Full Power Speed = 120 knots (138 mph)

Max Stall Speed = 45 knots (52 mph)

Two Place - pilot and one passenger

Day VFR

Driver's License Medical Approved - however, if you have received a letter with the word "denied" from FAA, not from your doctor, you must get a one-time special issuance or FAA authorization. Even if you have been denied in the past, you can try again for special issuance (medicines have changed, for example).

Rule Effective Date = SEPTEMBER 1, 2004

More Details:

---

Gleim Publications now offers a Sport Pilot Kit designed to help expedite training for the sport pilot certificate. They offer a complete training program at an affordable price, with user-friendly self-study materials that are carefully designed to make it easy to learn and understand.
The Sport Pilot Kit contains everything you need (except airplane and instructor).

The "sport pilot certificate" varies from existing private pilot certificates significantly including:

1. Requires only 20 hours of flight instruction as compared to 40 hours for private pilot.

2. Limits sport pilots to flying low performance airplanes: maximum weight 1320 lbs, maximum stall speed 45 knots, maximum speed 120 knots, fixed landing gear, and a fixed pitch propeller.

The objective is to make the thrill, satisfaction, and excitement of aviation available to more people by reducing the complexity and cost.

---

The Complete Idiot's Guide to Sport Flying




by Dan Ramsey, Earl Downs, forwarded by Tom Poberezny

The FAA's new sport flying license will let people earn their wings for a fraction of the time and cost of a traditional license. The Complete Idiot's Guide' to Sport Flying introduces this new field of flying to consumers, and shows you how to fly smart—offering tips on how to get more flying fun for less money.

---
Sport Pilot Info:
If I become a sport pilot, what can I fly?
An aircraft that meets the definition of a light-sport aircraft may hold an airworthiness certificate in any one of the following categories of FAA certification:

an experimental aircraft, including amateur-built aircraft, for which the owner must construct more than 51-percent of the aircraft.

a Standard category aircraft; that is, a ready-to-fly aircraft that is type-certificated in accordance with FAR Part 43.

a Primary category aircraft; that is, a ready-to-fly aircraft that is type-certificated in accordance with Primary category regulations.

a "special" light-sport aircraft

an experimental light-sport aircraft.
---